Travellers looking for the freedom of setting their own flight schedule will be pleased that Chippewa County International Airport (CIU) is building a new General Aviation Terminal (GA).
Tami Beseau, the airport manager at CIU, explained the new construction would be more welcoming to passengers and pilots.
Air Charter allows passengers to set their schedules and allows groups and families to travel together. The new GA terminal will have plenty of room for large groups to gather before departing and will have a pilot lounge, pilot flight planning room, kitchenette, and vending areas.
"If you have a business meeting somewhere at 10 o'clock and you fly commercial, you have to find the closest flight times to match your meeting time," she said. "If you charter an aircraft, you can be at your meeting by 10, and when your meeting is done, you can go home."
The previous GA terminal was a former military building divided into multiple small rooms.
Although it was functional, Beseau said it never really served the general aviation needs of the airport. The new two-story facility will be completed in September and will house the Economic Development Corporation's offices and conference room (EDC manages the Chippewa County Airport) on the second floor. The first floor will have a Fixed Base Operations (FBO-fueling) office, pilot lounge and passenger lobby. New to the building footprint will be a separate entrance and hold area for international travelers.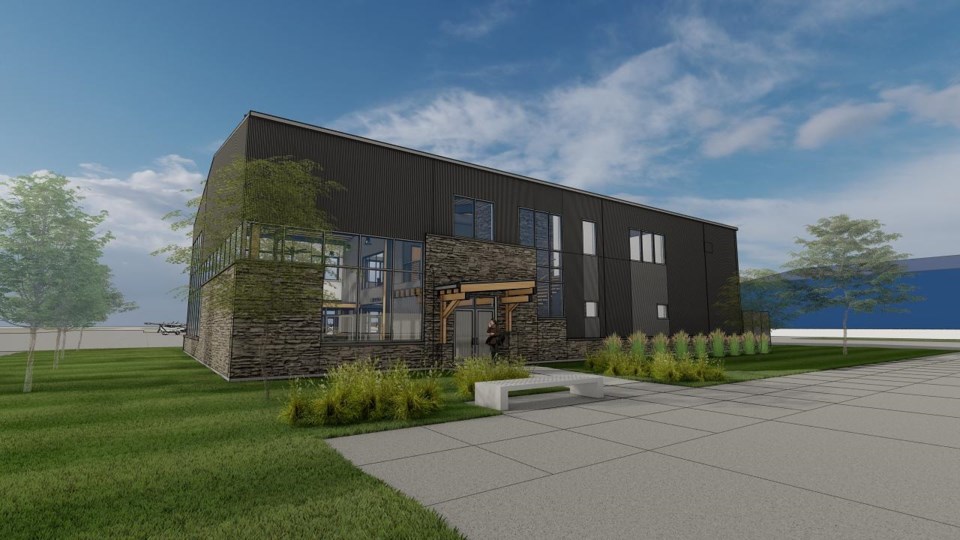 CIU is an "airport of entry," and US Customs will "clear" aircraft and passengers similar to the process on the International Bridge. When they arrive, international passengers can depart the plane if customs isn't on-site, provided they don't mingle with other passengers or bring materials off the aircraft. CIU would prefer to keep international passengers and their property separate from other passengers until cleared by US Customs. This process provides the required and expected safety when processing international travelers.
"We are excited about constructing this area, which will allow international passengers to stretch their legs, use the restrooms, or have refreshments while waiting to be screened," Beseau said. "We are sure this will be welcomed by US Customs, as they strive to provide safe and secure processing of international travelers."
Many families fly air charter when traveling to and from their homes on one of the many Le Cheneaux Islands; groups often fly charter to visit Mackinac Island or the many other beautiful sights in the Eastern Upper Peninsula.
The new GA terminal isn't the only project underway; Beseau said there is always a list of upgrades the airport is working on to enhance the safety and security of its runways, taxiways and lighting systems. Last summer, they repaved the secondary runway, and this summer, LED lighting will be installed on the main runway.
To book your commercial flight, contact Delta.com. For airport information, follow the website at airciu.com.