Sault Ste. Marie is known for its breathtaking scenery and outdoor winter experiences. With renowned downhill and cross-country skiing, countless places to snowshoe, ice skating trails, snowmobiling, a growing fat biking scene, famous ice caves and more, it's no secret why this idyllic Northern Ontario city draws people from all over the world.
Here's why visiting Sault Ste. Marie is topping many people's list of places to travel in Ontario this winter.
A destination for one of the fastest-growing winter sports
Sault Ste. Marie (the Sault) is quickly becoming a top destination for fat biking in Ontario.
Hiawatha Highlands and Crimson Ridge offer two unique networks with over 30 kilometres of professionally groomed fat biking trails just minutes from downtown. Enjoy challenging elevation, fun descents and flow sections while travelling alongside frozen rivers and through dense snow-covered forests.
Downtown, the Sault Ste. Marie Canal National Historic Site is home to fat bike trails with free access for all skill levels on St. Mary's and Whitefish Islands. Here, you will ride alongside the rushing St. Mary's Rapids and encounter a variety of wildlife species.
After fat biking, enjoy food and refreshments at restaurants in the nearby Canal District or check out many delicious dining options downtown.
Fatbike rentals are available locally thorough Velorution Bike & Ski. Call 705-253-9388 for information and size options.
Local secret: St. Kateri Outdoor Learning Centre has around 3.5 km of fat biking trails that are free for public use.
Discover some of the best downhill skiing in Ontario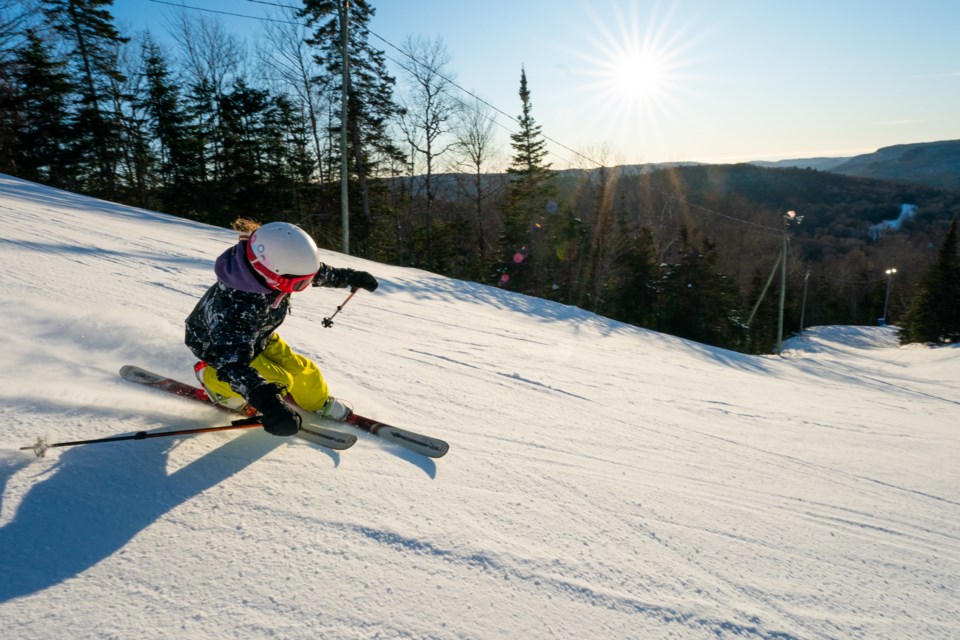 The Sault is home to some of the best downhill skiing and snowboarding in Ontario, without the jam-packed lift lines found at many southern Ontario hills. This means more runs down 703 vertical feet of adventure-packed terrain at Searchmont Resort.
A premiere-ranked resort, Searchmont boasts 26 runs across high-quality mountain terrain. The resort is equipped with a slope-side restaurant and bar, shop, equipment rentals, new lifts and night skiing.
Local secret: Sault Ste. Marie has a thriving backcountry ski scene. To discover one of Ontario's best backcountry ski experience, check out the Bellevue Valley Lodge.
Nordic ski on endless groomed trails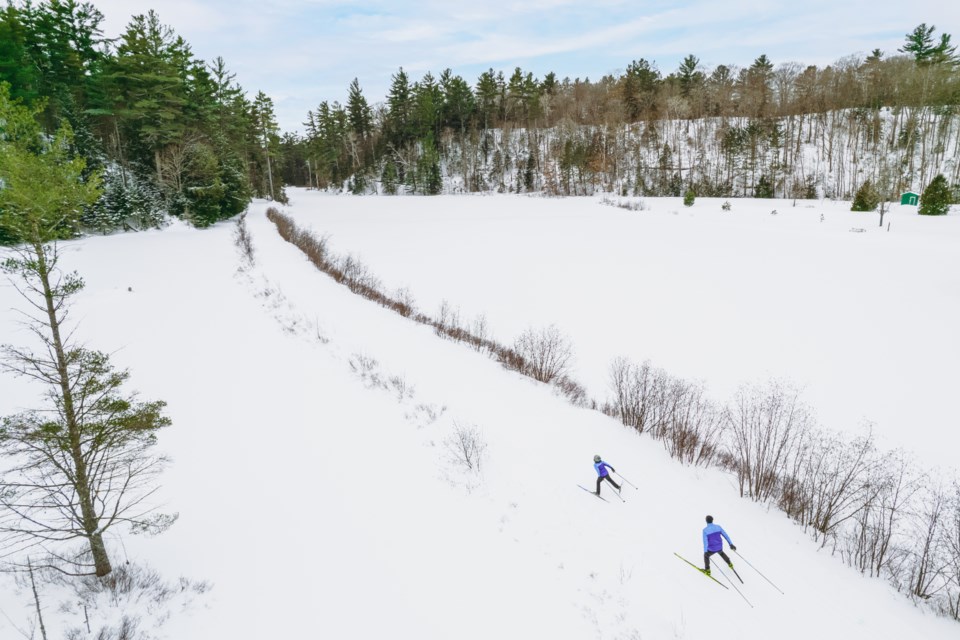 Sault Ste. Marie offers some of the best cross-country skiing in Ontario and North America.
According to CNN and Forbes, Stokely Creek Lodge claims one of the top spots on the continent to participate in Nordic skiing. Stokely has 100 kilometres of groomed skate and classic ski tracks that wind through 12,000 magical acres of the Algoma Highlands.
Breathtaking scenery including frozen lakes and waterfalls, endless forests, and amazing vistas like the one at the top of King Mountain, make Stokely a bucket-list destination for Nordic skiers. Enjoy on-trail warming huts, Scandinavian lodging and an all-inclusive experience for an unforgettable Ontario ski vacation.
If 100 kilometres of trail isn't enough, just 10 minutes from downtown Hiawatha Highlands offers an additional 50 kilometres of skiing through towering pine forests. Enjoy night skiing on Hiawatha's lighted loop.
Local secret: Hiawatha Highlands hosts several "lantern skis" throughout the season for a truly magical nighttime Nordic ski experience.
An unexpected skating experience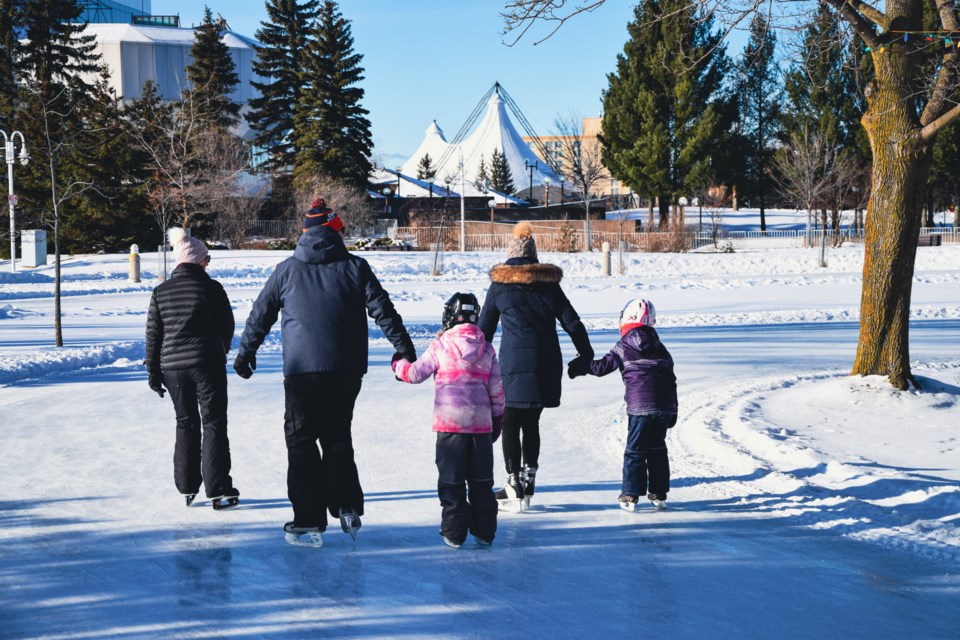 Sault Ste. Marie is home to two skating trails within a walk or short drive of downtown.
Enjoy a waterfront sunset or evening under a starlit sky while skating along the Clergue Park trail. Afterwards, enjoy dinner and refreshments at one of the Sault's diverse restaurants like Ernie's Coffee Shop and East Street Pizza Company or visit local craft breweries, Northern Superior Brewing Co. or Outspoken Brewing.
For an unexpected skating experience, check out Crimson Ridge's stunning 1.1 kilometre lit trail winding through the forest. Warm up by the trail side campfire or duck into the onsite steakhouse, Ember's on the Ridge for a meal and post-skate cocktails.
Local secret: Sault Ste. Marie is home to a new covered outdoor skating rink with onsite dining. Located in the Canal District, free public skating is offered every Saturday and Sunday from 11 am to 1 pm. Or, you can book the ice for a private skating or hockey experience.
An unforgettable single-day snowmobile adventure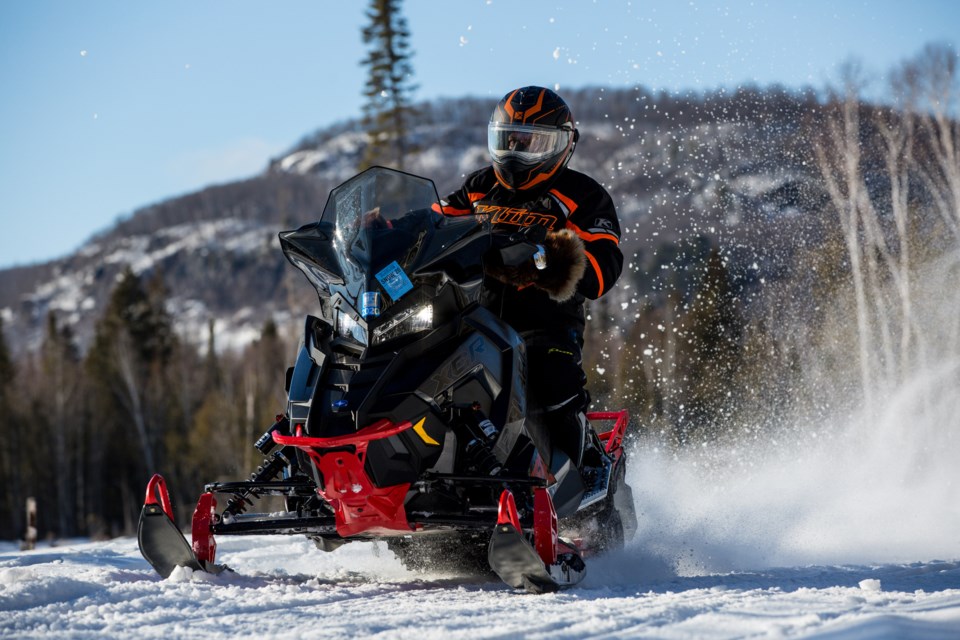 Sault Ste. Marie has a reputation for being one of the best destinations to snowmobile in Ontario. Access to well-maintained trails and amenities, single to multi-day adventures, abundance of snow and the region's natural beauty continues to draw enthusiasts in year after year.
The new Soo Highlands Loop provides riders with a 170-km riding experience in Northern Ontario's wilderness. The single-day loop takes you north to Searchmont Resort and across the ridgeline of the Canadian Shield.
Grab your Ontario Snowmobile Trail Permit from the Sault Trailblazers Snowmobile Club to start your adventure!
Local secret: Sault Ste. Marie is host to several exciting snowmobile events throughout the winter including drag races, group fun runs and more. Find out more.
Experience one of the coolest winter attractions in Ontario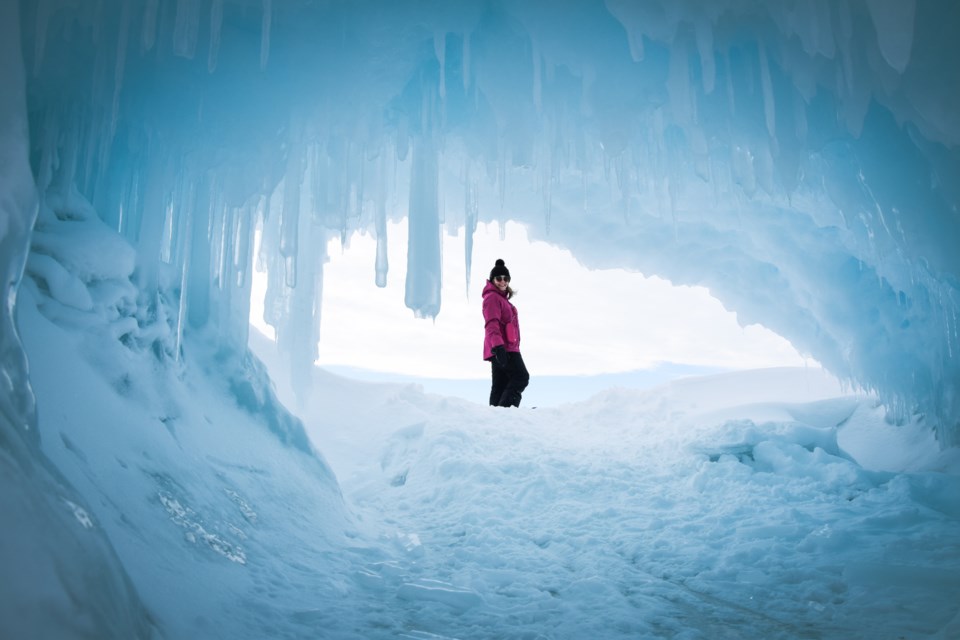 Lake Superior's ice caves offer an experience like none other.
Each year, shoreline ice caves and formations are naturally created when the waves on Lake Superior freeze over. These chasms and sculptures of blue ice will leave you speechless and change year after year making each experience one-of-a-kind. See why the New York Times named Lake Superior's ice caves one of the top 50 sights to see.
Local secret: For the insider experience, Stokely Creek Lodge and Forest The Canoe offer guided day trips to the best ice caves, including transportation, crampon-equipped snowshoes and a snack.
Snowshoe trails to showcase the beauty of the area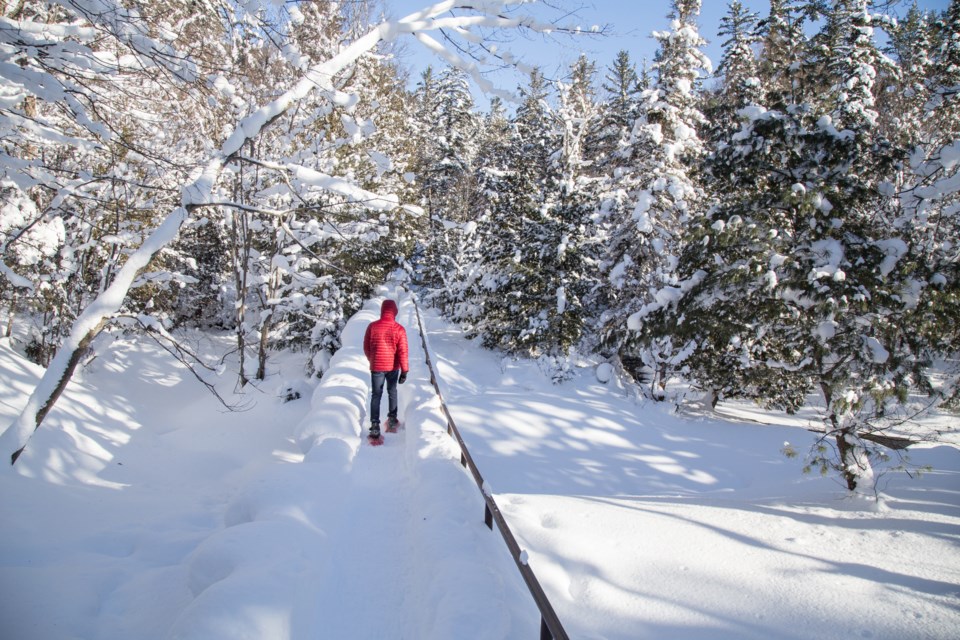 Snowshoeing in Sault Ste. Marie is one of the best ways to experience the beauty of the area. Whether you're a seasoned snowshoer or a beginner, there are plenty of trails and rental options available to help you make the most of your time in this beautiful city.
A short drive from downtown, Hiawatha Highlands offers trails in two, three and four-kilometre loops with equipment rentals available onsite. The trails at Hiawatha are accessible to all skill and fitness levels.
Just outside of the Sault, tackle some elevation and snowshoe to the top of King Mountain at Stokely Creek Lodge for bird's eye view of the Algoma Highlands. Experience wildlife, frozen waterfalls and the beauty of a region that inspired the art of The Group of Seven.
Enlist an expert guide to show you the way or provide information about the area and its cultural significance.
Local secret: There are several scenic wooded areas within city limits to explore on snowshoes including Finn Hill, The Sault Ste. Marie Golf Club and Fort Creek Conservation Area. To find new places and trails to explore, check out the TrailForks app.
Relax, dine and reflect on your experiences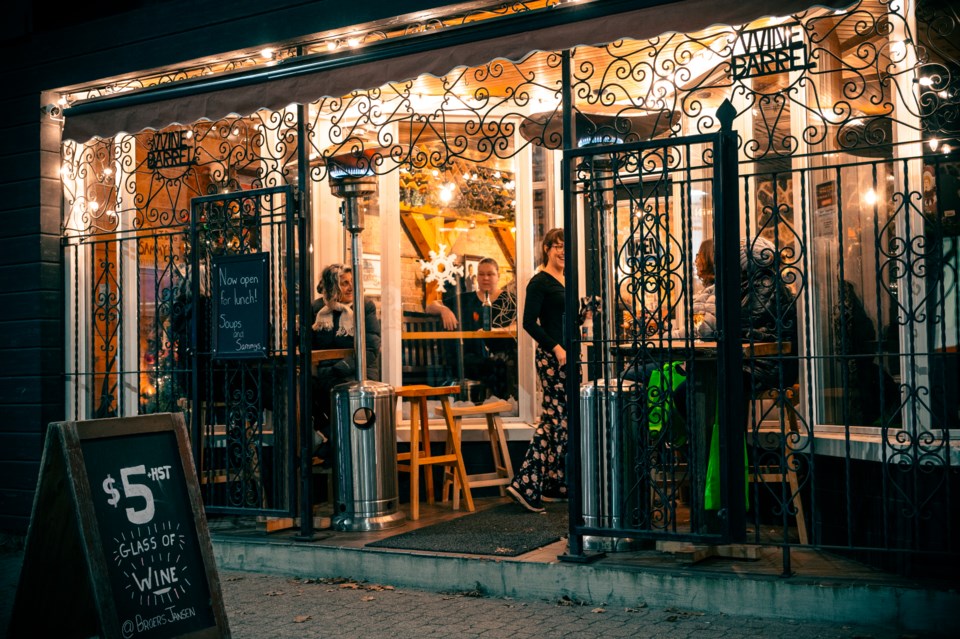 After a day of adventuring, refuel and experience diverse cuisine from the Sault's emerging culinary scene. Enjoy Asian-inspired creations from Peace Restaurant, plan your next adventure over authentic Syrian food at Georgie's Shawarma, or enjoy at any of the other great restaurants the Sault has to offer.
Sault Ste. Marie is a beautiful place to be during the winter months. Start planning your ultimate winter adventure getaway today.